I've never done this before, but I've been reading several people's Top Ten posts over the last few months (or maybe it's been a year, I don't know), but I couldn't resist doing this one when I saw the topic. You all know I love fairytales and retellings after all. Top Ten Tuesday is hosted by The Broke and the Bookish.
Books I've Read
1. Cinder by Marissa Meyer: My new favorite series is the Lunar Chronicles. Cinderella as a cyborg? Yes, please! I love this whole series. I'd love to see merchandise for it and a movie adaptation. #JointheResistance
2. Golden by Cameron Dockey: I love Rapunzel, and this version turned the tale on it's head with there being two girls, a case of mistaken identity, and one of the girls has alopecia.
3. The Night Dance by Suzanne Weyn: One of my favorite fairytales is The Twelve Dancing Princesses, so when I came across this one, I had to read it. This one features some Arthurnian lore as well, making a double dose of retellings.
Books I Want to Read
4. Winter by Marissa Meyer: I can't wait for this to come out! See above.The final installment in the Lunar Chronicles promises to be the longest at around 800 pages, which will be the longest book I've read when I finish it.  #WinterisComing
5. A Court of Thorns and Roses by Sara J. Maas: Another favorite is Beaty and the Beast putting this one at the top.
6. Princess of the Midnight Ball by Jessica Day Goerge: Another Twelve Dancing Princesses retelling. I also want to read the other books in this series.
7. A Curse as Dark as Gold by Elizabeth C. Bunce: A Rumpelstiltskin retelling, and it was a Sunshine State Reader here a few years ago. I love to hate Rumple on Once, so I have to have this one here.
8. Monstrous Beauty by Elizabeth Fama: This one is a retelling of the Little Mermaid, and it's historical, two fave genres in one!
9. A Kiss in Time by Alex Flinn: This one is a Sleeping Beauty retelling. I always liked Disney's Sleeping Beauty, so I have to put this on the list.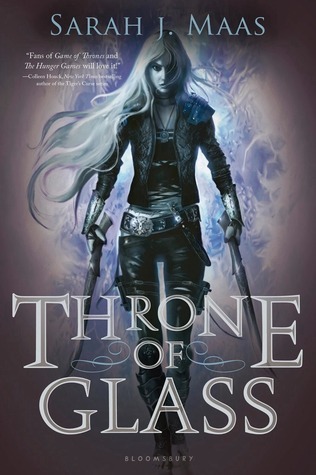 10. Throne of Glass by Sarah J. Maas: I wasn't initially going to put this one on here, but I decided what the heck! I can have more than one book by the same author if I want to! I've been wanting to read this one for about a year. So I guess it does belong here. An assassin and it's a Cinderella style tale, I'll take it!
There are many, many retellings out there. It was very hard for me to choose my top ones. I wanted a variety of source material so that I wasn't repeating too many of them. I of course want to read ALL of them. Maybe I'll save up my vacation time, stock up on tea and snacks, and curl up with my Star Wars Rebels blanket and just read. I can't think of a better vacation for a youth services librarian, can you?